If you ever listened about my sharing of childhood memories then you might know that I was
mostly
raised up by my grandma for about six years of elementary school time. Having working parents isn't preferable, personally, but somehow I'm grateful over it. Proud to say that I'm the only one among the grandchildren who got to taste the most frequent and variety on my grandma's cooking. Let me name some like claypot chicken rice, asam pedas, herbal soup, sambal petai, ikan cencaru with sambal, sweet and sour fish fillet, grandma's style breakfast set....All of them are simply
YUM!!!
(Ahh..sense of nostalgia once again)
As the modern food concept has been flourishing to the society now, for example,
cheese tart, cheese drinks and 安慕希 Greek yogurt drinks.
People tend to be on the track of continuous trying on new food (thru the words of mouth and so called 'trend') and somewhat, gradually forgetting on the taste of old good times from the food.
Here to highlight
Granny's Cottage
(non-halal restaurant) to you because...
Strategic location ( A shop lot at a one-stop shopping mall )
Opportunity to the taste of simple cooking ( Important for workaholics especially )
Compatibly reasonable price as in the mall
Let me share with you what my family and I had earlier last weekend at the restaurant.
Special Sambal Petai with Prawns 家传叁巴臭豆虾仁 (RM 18.90)
Without hesitation, my mum and I mutually selected this when we were about to place our order.
My mum nodded her head right after her first taste on it.
That's pretty much a good sign that it has passed her standard, I suppose.

It tend to spike to sweetness which is too my own liking. Plus, it's less spicy. I guess it would be fine for the kids too.
Stir Fried Potato Leaves with Garlic 清炒番薯叶 (RM 8.90)
That's my family favourite, especially my dad.
All of us agree that the tender leaves of vegetables is the greatest key on this dish. Not too oily, too. Thumbs up for the chef as he/she manages to cook like how a real home-cooked dish should be. Simple yet healthy.
Winter Melon with Pork Ribs 冬瓜排骨汤 (RM 7.90)
It's common a practice in most of the families to have soup during dining hour. We have this winter melon soup which my grandma used to cook this frequently, too!


The serving is up to 2-3 pax, if you are not those 灌汤 diners
😂
Taste simply clean and sweet, wonderfully contributed by the sweetness of the pork and Gozi berry.
Nestum Prawn 麦片虾 (RM 21.90)
Average size prawn, simply nice and perfect.
We were slightly turned down over the oiliness of the prawn. We think that it's gone a little over that is greasy and unhealthy to dine. Other concerns are fine to us, fragrance of the Nestum hit it right as it unleashed to our nostril upon servings.
Soya Milk with Peanut (Served warm) 豆奶花生(热)(RM 4.60)
We decided to try out this as a completion of our satisfying meal
Not too sweet and quite refreshing to consume, simply perfect to warm your stomach in the recent weather.
Here you go in case of you're keen to preview the menu before making a patronage to Granny's Cottage.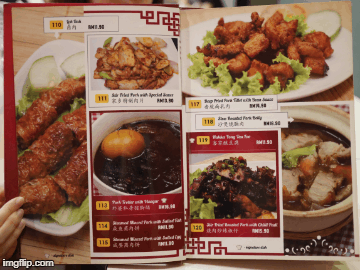 Selections of meat, chicken, seafood and egg
A wide variety of cooking in vegetables and rice and noodles
More on beancurd, soup, snacks and dessert.
Summary (Scaling Point: 0 - Lowest; 5 - Highest)
Price: 3.5/5 (Reasonable over its location in shopping mall)
Taste: 3.5/5 (Fairly acceptable by us for the dishes we ordered)
Cleanliness: 4/5
Dining Ambience: 4/5
Vehicle Parking: Parking lots in the mall
Business Hour: 11am til 9pm. Opens daily.
Payment: Cash and credit cards (Visa, MasterCard & AMEX)
Address:
170-06-02, Plaza Gurney,
Penang, Malaysia
Contact: 04-226 1224 (Takes delivery and reservation)
Sponsored Post
Thanks to Mr Jayden Chin for extending the invitation